News
LEER Latitude Soft Trifold Cover Now Available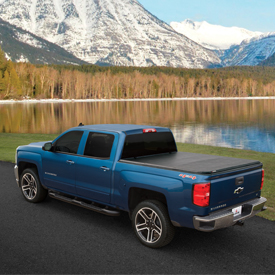 LEER has introduced its Latitude tonneau for pickup owners seeking the convenience and value of a soft-folding cover.
The Latitude is designed to deliver maximum convenience with a quick and easy install, usage and removal. The product is available now throughout North America.
The Latitude tonneau features the patent-pending Cync latching system. This LEER design allows the cover to be opened from either side of the truck bed with just one hand. The Cync latching system assures the cover is secure, easily accessible, and able to close even when the tailgate is up.
Additional Latitude features include:
A built-in self-tensioning system to keep the cover tight
No-drill design for one-person installation or removal
Sturdy nylon security snaps to prevent the cover from separating from the truck even under severe weather conditions
Convex support frame and beveled edges for efficient water management
Easily-adjustable buckles to secure the cover when open
"Customers are going to love the innovations we've designed into the Latitude, such as auto tensioning and the advanced Cync latching system," said Kathy Adams, vice president of marketing and new product development. "The new Latitude tonneau is perfect for pickup owners who place a premium on convenience and usability."