News
Leaner and Meaner Pliers Navigate Tight Spaces and Sheet Metal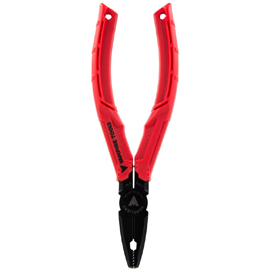 Hand tool company Vampire Tools has debuted its Brute VamPLIERS.
The Brute is lighter and tougher than the comparable VT-001, weighing in at just 0.28 pounds with a hardness rating of HRC60. Its black oxide finish acts as a protection against rust, according to the company.
The Brute also sports a number of design changes compared to the VT-001. The new tool was optimized to extract fasteners of a variety of sizes. The newly redesigned surface allows for a set of new functions, and the weight and size make it a versatile choice for a range of tasks, according to Vampire Tools.
The Brute features a longer wire cutting surface and larger opening for electrical jobs, while its intermesh teeth interlock over a wider surface area, allowing for more control and greater bite for hard-to-grip items like sheet metal, according to the company. The tool's nose has the signature VamPLIERS jaws for gripping fasteners, but comes with a slenderer nose that allows it to get into smaller spaces.