News
Lance Camper 'Altimeter' Shows Off Overlanding F-350 Super Duty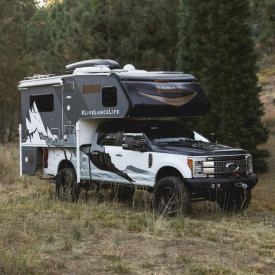 Lance Camper, manufacturer of truck campers and travel trailers, made the SEMA Show debut of its 'Altimeter' project in the new Overland Experience area of the Performance Pavilion. The 'Altimeter' is built off of a Lance Camper 855S Truck Camper and 2019 Ford F-350 Super Duty a 2019 outfitted with all of the modifications needed for serious off-road and overland travel.
The 2019 Ford F-350 Super Duty served as an ideal platform for the 'Altimeter' project thanks to its powerful 6.7L Powerstroke V8 diesel engine and four-wheel drive capabilities. The Lance Camper 855S model offers functionality with room for four and a dinette slide out, all in the short bed of the Super Duty. The 'Altimeter' project is a true four-season camper and was designed for adventure at any altitude. Whether in the mountains during ski-season or on the beach in the summer, the "Altimeter" offers all the comforts of home with unmatched versatility.
To upgrade the Super Duty for off-road exploration, an ICON Vehicle Dynamics Stage 5 suspension system was added, providing 2.5-inch lift. To combat the added weight and altered center of gravity of the camper, Hellwig Products front and rear sway bars were added to better control the weight of the truck camper and air springs were installed to bring the ride height back to level when towing the Yamaha YXZ 1000RSS. Raceline Defender Wheels were installed on both the Super Duty and the Yamaha YXZ 1000RSS, both shod in Maxxis RAZR MT tires.
Torklift Talon Aluminum Frame Mounted Tiedowns and Fastgun Turnbuckles were utilized to securely mate the camper to the truck frame. A Warn Ascent front bumper was added as well as a Zeon 12S Platinum winch to aid in recovery situations. Sherptek's PakHorse was added as mounting location for additional gear including Rotopax water and fuel storage. KC Hilites provide auxiliary LED lighting on the front bumper and under the hood. To make sure the "Altimeter" never runs out of juice, three 100Ah Deep Cycle batteries were installed by Battle Born Batteries. More creature comforts were also added, like a DryRack by Malo'o for swimsuits/wetsuits, a rechargeable flashlight by Maglight as well as  UTV and camper speakers and charging accessories provided by Scocshe Industries.