News
Lamborghini Partners with Ligier for LMDh Chassis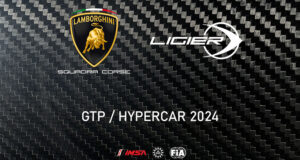 Lamborghini has named Ligier Automotive as its technical partner and chassis constructor for the manufacturer's LMDh prototype that will join IMSA WeatherTech SportsCar Championship competition in 2024, the sanctioning body announced.
The Italian automaker announced earlier this year that it would develop an LMDh prototype to race in the IMSA WeatherTech Championship GTP class and the FIA World Endurance Championship's Hypercar class beginning in 2024.
Ligier will supply the spine of its new generation Le Mans Prototype 2 (LMP2) car and the bodywork package for the Lamborghini LMDh, the company said.
"We are extremely proud that Lamborghini has selected Ligier Automotive for its LMDh program," said Jacques Nicolet, president of Ligier Automotive. "Proportionally, we have remained in our respective fields of activity as companies on a human scale. A commitment to reaching determined objectives in record time is a priority for our entire staff. Ligier is a burgeoning company, and this decision by Lamborghini honors us and confirms our strategic direction in France and the United States."
"We are glad to announce the technical partnership with Ligier on the LMDh project," said Giorgio Sanna, Lamborghini head of Motorsport. "As in Lamborghini Squadra Corse we have found in Magny Cours (Ligier's French base) a team of young, competent and motivated people. We already feel as one team and we look forward for the next challenges in front of us."
The Lamborghini-Ligier agreement means that all four approved chassis constructors will be involved in the GTP class. Porsche is partnering with Multimatic on its LMDh project, Acura is aligned with ORECA and BMW and Cadillac are both working with Dallara, IMSA officials said.