News
LA Roadster Show Swap Meet Has Something for Everybody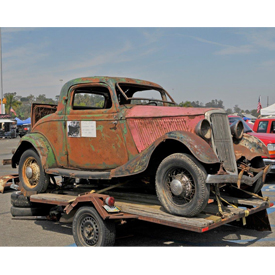 The LA Roadster Show and Swap Meet featuring pre-1936 roadsters returns to the Fairplex in Pomona on Father's Day weekend, June 15-16. The event's historic on-site swap meet will feature everything from rare classic automotive parts and memorabilia to project cars ready for restoration and customization.
The LA Roadster Show and Swap meet is put on by the LA Roadsters car club like it has every year since 1960. Starting in the Hollywood Bowl, the show grew to become the largest gathering of classic pre-war roadsters and hot rods in the world, the event's swap meet also gained popularity for showcasing an unmatched selection of unique and hard-to-find parts as well as project vehicles for sale, according to organizers. From valve covers to velocity stacks, five-window bodies and beyond, all of the parts needed to complete a visitor's project are available.
Sellers who would like to showcase their items for sale can download an application on the LA Roadster Show website. Each space provided is 25-feet wide by 20-feet long. The registered seller will receive one car pass and two arm bands to attend the event. All vehicles must be placed in the spot allotted or parked in the lot on site.
To ease access to the swap meet, buyers are advised to enter through the gate 17 parking lot. There will also be a manufacturer midway and vendor building featuring the latest products from some of the biggest names in hot rodding.
On-site swap meet space reservation will occur 9 a.m. to 4 p.m. June 12-13, 7 a.m. to 4 p.m. on June 14, 7 a.m. to 2 p.m. on June 15, and 7 a.m. to 2 p.m. on June 16.
For more information, visit laroadstershow.com/swap-meet or call 877-207-7773.