News
LA Roadster Show and Swap Meet Heads into 54th Year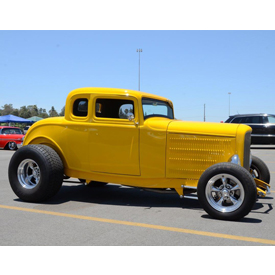 The LA Roadster Show is set for June 15-16 at the Fairplex in Pomona, California. One of the longest-running roadster exhibitions in the world, the LA Roadsters car club-produced event will feature the world's largest gathering of pre-1936 roadsters as well as its historic on-site swap meet, according to organizers.
The LA Roadsters Car Club has deep roots in the Southern California car scene. Founded in 1957 as a small group of dedicated enthusiasts of pre-war roadsters, the distinctive red shirts worn by its members represent a badge of vehicular honor. In 1960 the club hosted the first LA Roadster Show and Swap Meet.
As one of the oldest continuously operating car clubs in the country, the LA Roadsters proudly carry on the tradition of street rodding safety, family unity and camaraderie amongst the members and other clubs.
Members of the LA Roadsters Car Club will show over 20 of their own colorful creations. From flames and flares to chrome and candy-apple paint, attendees will find remarkable examples of historic roadsters at the show.
In addition to the roadsters, the show also will feature hundreds of pre-1977 cars and trucks. A selection of these vehicles, as well as a huge variety of rare and hard to find parts, also will be available for purchase at the swap meet.
The big change for 2018 is the move to a Friday and Saturday event schedule to avoid conflicts with Father's Day on Sunday.
For more information, visit LARoadstershow.com or call 877-207-7773.