News
KYB Receives Marketing Excellence Award from Automotive Parts Services Group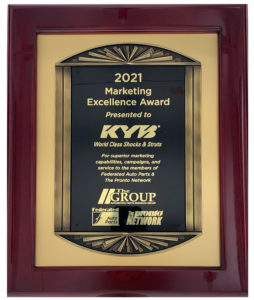 KYB was recently recognized by the Automotive Parts Services Group ("The Group") as its Marketing Excellence Vendor of the Year, the company announced. The Group presented top supplier awards during its virtual national conference and expo. Members of Federated Auto Parts and The Pronto Network cast votes for the top supplier in each category.
"We are honored and humbled to be recognized by The Group and all their membership" said KYB Director of Marketing Aaron Shaffer. "In what has been a challenging year, we are fortunate to have so many great partners who leveraged our programs to better train technicians and sell more parts."
KYB will continue its marketing initiatives throughout 2021 with consumer promotions, incentive programs for service providers and parts professionals and online training courses.