News
KYB Named APSG's Marketing Excellence Vendor of the Year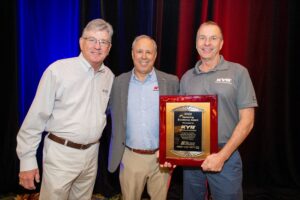 KYB was recently recognized for its marketing efforts by the Automotive Parts Services Group (APSG), the company announced, after receiving the group's Marketing Excellence Vendor of the Year award.
The award was announced at the APSG's National Conference and Expo. Members of Federated Auto Parts and The Pronto Network cast votes to determine the top supplier in several categories, with KYB being recognized as the Marketing Excellence Vendor of the Year.
"We are proud to award KYB our Marketing Excellence award once again. Winning this award for three straight years certainly speaks to the commitment KYB has to our members and their overall marketing efforts," said Robert Roos, president of The Pronto Network Cooperative. "Congratulations to the KYB team on another great year."
"We really strive to help our partners through marketing and education, and we greatly appreciate the recognition from The Group," responded KYB Director of Sales and Marketing Paul Kratzer.
Kratzer, KYB Regional Manager Ron Fisher and KYB Vice President Mike Fiorito were on-site to receive the award.