News
KYB Announces 'Strut-Plus Rewards' Program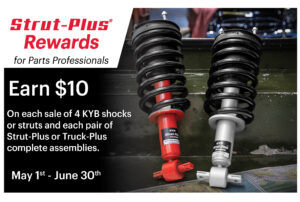 KYB is continuing its 2022 National Promotion schedule with the launch of its new "Strut-Plus Rewards" program, the company announced.
Beginning May 1, Parts Professionals will have the opportunity to earn extra cash by recommending and selling KYB Strut-Plus and Truck-Plus complete assemblies, as well as KYB shocks and struts, the company said.
"Recommending the correct shock or strut for a customer's vehicle is an extremely important responsibility of a Parts Professional," said KYB America's Brand Manager Andy Castleman. "We want to recognize those Parts Pros that recommend KYB products. They know that our correct engineering, correct manufacturing processes and correct on-vehicle performance makes KYB the Completely Correct recommendation for their customers."
Strut-Plus Rewards allows parts professionals to earn rewards on a prepaid Mastercard gift card. During the two-month promotional period, participants will earn $10 on sales of 4 KYB shocks and/or struts and $10 on sales of two KYB Strut-Plus or Truck-Plus assemblies.
The "Strut Plus Rewards" promotion will run from May 1 through June 30.
Click here for more information.