News
KYB Announces New Offer for Excel-Gold Program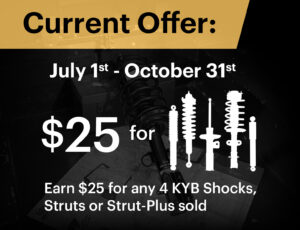 From July 1 through Sept. 30, service providers who have registered for KYB's Excel-Gold program will be able to receive $25 for every set of 4 KYB shocks, struts or Strut-Plus units sold and installed, the company announced.
Professional Technicians and service providers can enroll in the KYB Excel-Gold Rewards Program by registering online. Participants will receive their own KYB Excel-Gold Prepaid Mastercard and have access to their account through a dashboard, showing real-time updates on their claims, payout dates and amounts. The reloadable KYB Excel-Gold Prepaid Mastercard will be used for all future KYB Service Provider promotions.
"It's a simple process to join and upload invoices and there's no limit to the number of claims you can enter." says KYB Brand Manager Andy Castleman. "It's a great way to earn some extra cash and take care of your customer's vehicles at the same time."
Existing KYB Excel-Gold Members can continue to earn with this new offer.
Click here for more information.