News
KNIPEX Tools Releases 30-Day Tool Tips Video Series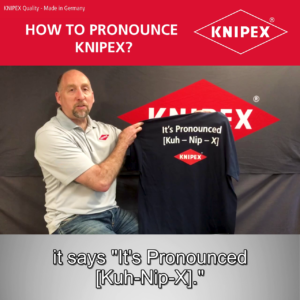 KNIPEX Tools is launching a 30-day "KNIPEX Tool Tips" video series, the company announced. Every day from June 1-June 30, the official KNIPEX Facebook page will release short videos of product demos, helpful tips and unexpected uses for some of KNIPEX's tools. All videos are hosted by Peter Grable, KNIPEX's product manager.
With the COVID-19 pandemic inspiring numerous "30-Day Challenges" across the internet, KNIPEX was inspired to introduce its own month-long video campaign and use it as an opportunity to introduce its audience to some of the lesser-known tools, educate them on the proper use of various KNIPEX products and recreate some of the company's popular trade show booth demonstrations. Some of the video topics covered in the series include:
"How to Pronounce 'KNIPEX'"
"How to Remove Staples"
"How to Cut Cable Ties Flush"
"When to Use a Wire Rope Shear"
"CoBolt Bolt Cutters Vs. Diagonal Cutters"
In addition to the daily Facebook videos, KNIPEX will also be doing weekly giveaways of some of the tools featured in the video series.
"With so many of us still stuck at home, we wanted the Tool Tips series to be a fun way for KNIPEX to connect and engage with our fans on social media," said Peter A. Grable, product manager, KNIPEX Tools. "Hopefully, these bite-sized videos will allow our end users to discover previously unknown features on their KNIPEX tools, learn about some of our more niche product offerings and receive helpful product application advice straight from the manufacturer."
To see a playlist of all the videos in the Tool Tips series on Facebook, click here.
To watch the Tool Tips video series on KNIPEX's official YouTube channel, click here.