News
King to Launch Coated Race Bearings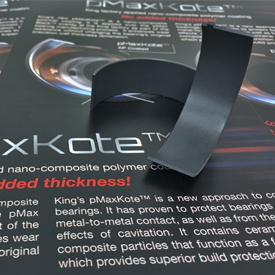 King Engine Bearings is launching new, coated bearing applications at the Autosport International Show. King's newest coated versions of their race bearings feature pMax-Black and the new pMaxKote.
King Engine Bearings will display the new bearings in the Engine Parts UK and Athena booth (No. E362) at the Autosport International Show in Birmingham England Jan. 11-14 2018.
"We are very excited to show off our newest coated race bearing lineup at the Autosport Show," Stated Meytal Snir Gal, vice president of marketing for King Engine Bearings. "These new coated bearings for popular applications like the Ford Coyote and EcoBoost V6, as well as the Subaru EJ20/25 and various Honda engines have better seizure resistance than any other race bearing available. We are glad to be the first in the market with factory applied coated bearings for these top selling applications."
For more information visit www.kingbearings.com and www.kingracebearings.com.