News
Kidde Recalls Fire Extinguishers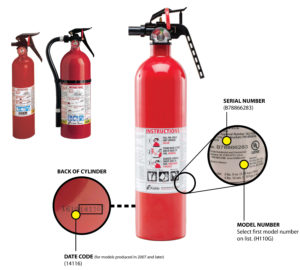 Kidde has recalled fire extinguishers with plastic handles due to failure to discharge and nozzle detachment.
The fire extinguishers in question can become clogged or require excessive force to discharge and can fail to activate during a fire emergency. In addition, the nozzle can detach with enough force to pose an impact hazard, according to the company.
Kidde is aware of a 2014 death involving a car fire following a crash. Emergency responders could not get the recalled Kidde fire extinguishers to work. There have been approximately 391 reports of failed or limited activation or nozzle detachment, including the fatality, approximately 16 injuries, including smoke inhalation and minor burns, and approximately 91 reports of property damage, according to the company.
This recall was first announced in November. More than 37 million fire extinguishers may be affected in the U.S.
Interested parties may call Kidde toll-free at 855-271-0773 from 8:30 a.m. to 5 p.m. EST Monday through Friday and from 9 a.m. to 3 p.m. EST Saturday and Sunday for more information. Recall information is also viewable online at www.kidde.com by clicking Product. This recall includes fire extinguisher models that were previously recalled in March 2009 and February 2015. Kidde branded fire extinguishers included in these previously announced recalls should also be replaced. All affected model numbers can be found on the company's website.