News
KICKER VP to Take on One Lap of America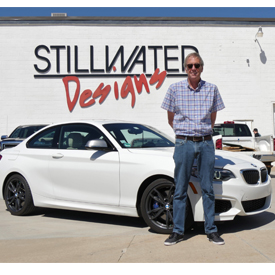 KICKER's own Rob Limbaugh is preparing for a journey through America's heartland. This week marks the start of one of the most demanding motorized events in the world: The One Lap of America. The event kicks off May 5 at Tire Rack's headquarters in South Bend, Indiana.
The One Lap of America was founded in 1983 by legendary journalist and American Motorsports hall of fame inductee Brock Yates. The event spans eight days, 14 states and over 3,600 miles. One lap takes 85 teams through a combination of 19 separate events, including road courses, time trials and drag races at nine different locations-all of which must be completed on a single set of tires.
Limbaugh, KICKER's vice president of business development, is a five-time veteran of the OLOA.
"It's an awful lot like mountain climbing," Limbaugh said. "You just do it because it's there."
Limbaugh and his co-driver, Ron James, will be steering a 2017 BMW M240i, and the audio performance will no doubt match the execution under the hood.
"The stock system is a set of four-inch, full-range drivers," Limbaugh said, who added the KICKER KEY180.4 smart amp and PX-Series mono amplifiers, as well as KICKER KS-Series speakers. "The difference in sound quality is night and day."
The KICKER vice president cites the motivation to participate in One Lap lies more in the experience than the victory.
"These guys are all gearheads," Limbaugh said. "If somebody breaks down on the side of the road, there are five guys pulling over to help him. There's a comradery like nothing I've ever seen before."
One Lap has its roots in the original cross-country race, the Cannonball Baker Sea-to-Shining-Sea Memorial Trophy Dash, which debuted in 1971 with a 2,900-mile run for more than 140 drivers and 60 vehicles ranging from Studebakers to Ferraris.
For more information on KICKER, call 800-256-5425 or visit the brand website at kicker.com.