News
KICKER to Sponsor Car Show and Audio Competition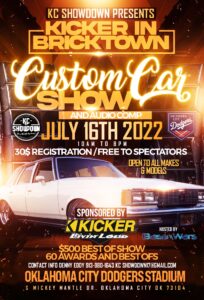 KICKER has signed on to provided title sponsorship for a custom-car show and audio competition in Oklahoma City's downtown entertainment district, Bricktown, the company announced.
The KC Showdown presents KICKER in Bricktown is open to all makes and models and will be held near the Chickasaw Bricktown Ballpark on Sat., July 16.
KICKER will appear at the event with the XRV (Xtreme Recreational Vehicle), the 82-foot showroom housing the full line of audio gear, the company said.
Car-audio competitors with big-bass systems will also be competing at the Bass Wars booth, earning prizes and points toward the Bass Wars World Finals.
The show will also feature a "hop off" for cars with hydraulics.