News
KICKER to Debut New Demo Vehicle at Slamology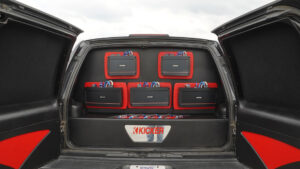 KICKER will be unveiling a new demo vehicle at the Slamology car audio event, the company announced.
The KICKER-built car, the "Gates" Bronco, will make its debut at the 20th-anniversary event, scheduled for June 10-11 at Lucas Oil Raceway in Indianapolis. The Bronco, which pays homage to Alma Gates' "Beast" Bronco from 20 years ago, houses a 30,000-watt system with nine 12-inch KICKER SoloX subwoofers. KICKER's booth area will also feature four other builds, including Andy Magill's "Cookie Monster," Slamology founder Donnie Babb's Mazda truck, and the "Bone Shaker" big rig from Canada.
The booth will be located on the south side of the show in Audio Vendor Row, where full-tilt demo sessions will regularly occur, the company said.
"It's truly astounding that we've made it to our 20th annual event," said Babb, president of GaugeMagazine.com and Slamology. "Lucas Oil Raceway Park has proven to be the perfect venue for our continued expansion. We invite you to join us on Friday night free-of-charge for our 20-year birthday anniversary block party."
Simultaneously, USACi, MECA, IASCA and Bass Wars will all have independent, multi-point car-audio competitions, featuring hundreds of Sound Quality and SPL competitors, organizers said.
Slamology also features live, local bands on stage, along with a tattoo competition, auto-limbo, a hydraulic contest, big-rig show and more.