News
KICKER Says Farewell to 33-Year Company Vet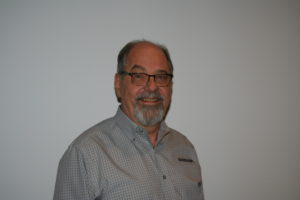 KICKER is saying goodbye to one of its first employees: 33-year KICKER veteran and Vice President of Marketing and Product Planning Charlie Schultz.
Since 1984, Schultz has seen the company evolve through the infancy of the 12-volt industry and into one of its major manufacturers.
"Charlie has been instrumental in KICKER's success since the day he moved to Stillwater (Oklahoma) in 1984," said KICKER General Manager Jay Ralston. "His leadership, along with his sales and marketing savvy have played a major role in propelling KICKER forward."
Schultz originally met KICKER President Steve Irby through a mutual friend and pastor. After a brief meeting, he was hired and moved to Stillwater. Using his musical background and managerial experience, he became KICKER's first national sales manager. The new role meant getting on the road and exploring the country. On his own and on the road, self-sufficiency was as vital as a drive to succeed, according to Schultz.
"In the early days I was worried we'd run out of customers; we were growing so fast," he said. "That fear was soon put to rest. As I traveled around the country, I realized how many people loved car audio."
Traveling to 40-plus states around the U.S., Schultz would haul KICKER full-range enclosures on the road to fill orders, and to meet new or potential dealers. His multifaceted background in construction, music and management served him well, allowing him to discuss everything from audio to enclosure types to general business practices, according to the company.
Working in a small company means rolling up sleeves and doing whatever necessary to get a job done. On the road, he was the distributor, tech support, and a one-man sales department. Back in Stillwater, Schultz did everything from office work to inventory to enclosure construction on the assembly line, according to KICKER.
As KICKER grew, so did its need for leadership. The company combined sales and marketing in 2005, resulting in Schultz's promotion to vice president, a position he held for 13 years.
In addition to guiding a large team, he played a vital role in expanding KICKER's reach into new channels. He was first to lead KICKER into the OE market. Now for more than a decade, KICKER has been a factory-audio option to several major manufacturers including Ford, GM, FIAT/Chrysler and Subaru.
In addition to the OE market, Schultz worked to re-define what the world viewed as mobile audio.
"I began to read about people putting gear on motorcycles in 2010," Schultz said. "We went to (Daytona) Bike Week and brought the XRV (Xtreme Recreation Vehicle tractor-trailer). People came up to us, asking what we had. It was an eye-opener."
A dedicated line of Powersports-specific equipment was first created in 2011. It now features amplifiers, speakers and Bluetooth receivers. Schultz also began developing a relationship with SSV Works, a side-by-side audio company renowned for its vehicle-specific enclosures. A strategic alliance officially developed between KICKER and SSV Works in 2016.
"The thing that stands out are all the people I've worked with," Schultz said. "I'm really grateful for this opportunity. I came in not knowing anything about this market, so I learned from Steve, from the shop owners and from the reps. We worked hard, and were in the right place at the right time."
"Not only was KICKER in the right place at the right time, but Charlie was also," Irby said.  "He was the perfect blend of a hard-working, personable and smart manager. Charlie was a blessing to our company from day one, and has continued to be so."