News
KICKER Returns to Sand Sports Super Show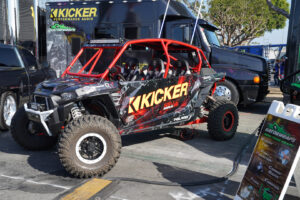 KICKER Performance Audio will be showcasing a fleet of demo UTVs at the Sand Sports Super Show in Orange County, California, the company announced.
Held at the Orange County Fair and Event Center on Sept. 15-17. KICKER will feature several vehicles in its booth (9008-LI) including the brand's own Polaris RZR, KICKER sales rep Murfco's radical Can-Am X3, Gatorwraps' Can-Am Defender, California Sound's Maverick R, the company said. The KICKER fleet will also be supplemented by several vehicles from Hoppe, a provider of UTV audio accessories.
"This will be Hoppe's first time out on the West Coast," said Rachel Rodriguez, Hoppe's marketing director. "We want attendees to pick our brains and hear what we've got to offer, but we're also pumped to engage with this side of the industry and its customers so we can better engineer our products around the ways they live and breathe off-road."
KICKER's powersports audio gear will also be featured in multiple booths around the show. Brands like SSV Works (booth 2035-GG) will have KICKER-equipped UTVs on hand, as well as Gatorwraps, which will be located next to the KICKER display. Several KICKER authorized dealers will show UTVs on-site, including UTV Stereo (Mesa, Arizona, booth 9101-LI), Temecula Motorsports (Murrieta, California, booth 1811), and Bert's Mega Mall (Covina, California, in its pavilion).
Click here for more information on the show.