News
KICKER Readies Rolling Boom Box for Slamology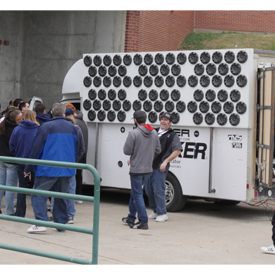 KICKER and its 80-foot Xtreme recreational vehicle (XRV) this weekend is attending an event called Slamology in Indianapolis. Slamology, set for June 9-10 at Lucas Oil Raceway, is one of the largest car-audio events in the country, according to organizers.
The XRV rolling showroom features a new wrap and houses the KICKER's fully line of mobile-audio gear. The rig's 20,000-watt boom room is designed thrill audiences with its wall of subwoofers, according to KICKER. Under the XRV's awning, a slammed 1994 Chevy C1500 owned and fabricated by KICKER install technician Tim Smith will be on display. Smith uses an SSV Works MRB3 Media Controller, a pair of KICKER IQ-Series 5-channel amplifiers, Q-Class speakers and CompRT shallow-mount subwoofers in his custom audio system.
Next to the XRV, the revamped JY Power Cube will be showing off a 60,000-watt KICKER Audio system. Built to demo at extreme volumes, the converted delivery truck features 40 KICKER 15-inch L7 Q-Class subwoofers powered by 20 KX-Series 2,400-watt amplifiers. On the outer walls, 12 KXM-Series amps juice 162 8-inch, weather-proof coaxial speakers.
This year marks the 14th year of Slamology, billed as a family-friendly, yet edgy event, according to show founder Donnie Babb.
"We wanted a way to connect with our readers at Gauge Magazine and have a weekend-long party," he said.
More than 1,700 show cars and 10,000 spectators attended Slamology 2017, with even higher attendance expected this year. The show will features live bands along with RC racing, a tattoo competition, auto-limbo, a hydraulic contest, big-rig show and bikini contest.
USACi, MECA, IASCA and dB Drag Racing will all have multi-point, car-audio competitions occurring at the show.