News
KICKER Prepared for Sand Sports Super Show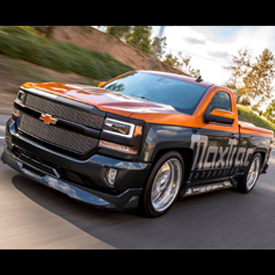 KICKER is bringing its truckload of fun to the Sept. 14-16 Sand Sports Super Show and the Orange County Fair and Event Center in Costa Mesa, California. The Sand and Sports Super Show bills itself as the largest of its kind showcasing dune and dirt sports.
KICKER freestyler and X Games gold-medalist Colten Moore will be at the company's Xtreme RV (XRV) signing autographs from 2-3 p.m. on Sept. 14-15. Moore wrote the 2016 autobiography Chasing the Sky, which was nominated for an ESPN Award in the field of literary sports writing.
KICKER's 83-foot XRV rolling showroom displays the complete line of KICKER audio gear and houses the 20,000-watt Boom Room with a wall full of 15-inch L7 subwoofers. The XRV will be in booth OS-1016, by the east entrance of the show.
KICKER will also showcase five demo vehicles loaded with KICKER gear. The KICKER Polaris RZR is equipped with a Phase 5 KICKER/SSV Works plug-and-play audio kit that includes an SSV Works receiver, a pair of compact KICKER PX-Series amplifiers, stealth subwoofer loaded enclosure and two pairs of speakers.
In addition to four custom UTVs, the MaxTrac Suspension Chevy 1500 LT will also be in the KICKER XRV area. The Silverado features KICKER KX-Series amplifiers, speakers and a thin-mount CompRT subwoofer in a custom enclosure.