News
KICKER Hits the Road with Makita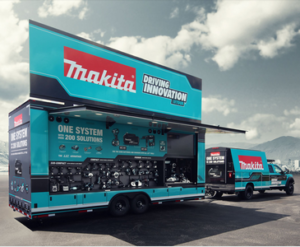 Audio company KICKER and tool company Makita are hitting the road together on the new Driving Innovation Tour.
Makita is rolling out a fleet of fully custom vehicles with product specialists delivering an interactive, hands-on experience for Makita tool users and dealers across America. Each Tour vehicle includes a custom KICKER audio system.
"KICKER has been proud to be a marketing partner with Makita for over 10 years," said Roger Demaree, associate director of brand and sports marketing, KICKER. "When they informed us of their Makita Driving Tour, we knew we had to help them out so their tour experience would be over the top."
The Driving Innovation Tour is a mobile demonstration of Makita's cordless tool technology. Along with the KICKER sound system, each Tour vehicle carries a full range of Makita LXT tools, power equipment and lifestyle solutions, the company noted.
"Makita made a significant commitment and investment in the Driving Innovation Tour to bring our leading LXT technology to users and dealers so they can experience Makita innovation hands-on," said Brent Withey, senior director of brand marketing, Makita U.S.A. Inc. "The number of Tour events will reach well into the four-figures each year as we bring this mobile experience to our user and dealer audiences where they work and where they learn, and even where they play as the Tour will make stops at Makita-sponsored events off the jobsite."