News
KICKER Debuts Assortment of New 12-Volt Products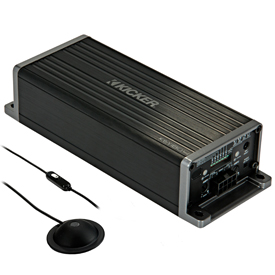 Beginning its 45th year in manufacturing and retail, KICKER brought a bevy of new products to the Jan. 9-12 CES Show.
From booth No. 4619 at the Las Vegas Convention Center North Hall, KICKER is presenting products original to the brand, including the ingenious KEY180.4 Auto-EQ Smart Amp that corrects and improves any mobile factory or aftermarket sound system with a simple push of a button. Also included in the 2018 mix are TB-Series Subwoofer Systems, a fresh look at tube subs with bass-inducing reflex subwoofers/passive radiators.
KEY Smart Amplifier/Processor
The KEY180.4 is a complete 180-watt, four-channel amplifier and acoustic solution in one. Using a powerful internal computer and calibration microphone, the KEY delivers dramatic improvements in realism and soundstage without the need for an external processor or RTA (real-time analyzer), according to KICKER.
Users mount the amp behind the radio or under a seat (with its compact size of 2-inches wide by 8-inches long), then press the selector switch on the in-line microphone (placed on the headrest near where the listener's ears would be).
In a matter of seconds, the KEY's processor goes to work. Using proprietary algorithms developed in-house by KICKER engineers, the system detects each speaker's size and applies a 24dB crossover and 40 channels of equalization. Time alignment and gain levels are also applied to each driver.
What would take hours for a professional to achieve happens in a matter of seconds, all automatically with the press of a single button, according to the company. KEY180.4 will begin shipping to KICKER dealers in the first quarter.
Tub Subs
The TB is KICKER's modern take on bass tubes. Creating big bass in a small footprint, the TB Sub housing features thick ABS tubular construction and an innovative bracket system, allowing the enclosure to be mounted horizontally or vertically. Equipped with an active CompR woofer on one end and a bass-inducing reflex sub on the other, the TB delivers louder, deeper bass that's mountable almost anywhere, according to KICKER.
The TB-Series Subwoofer plays hard in any environment. Equally at home in or out of the elements, the TB is easily installed in a boat, a UTV, in a trunk or behind a truck seat. Available in 8- or 10-inch enclosures at 2 or 4 ohms, TB Subwoofers will begin shipping during the first quarter.
Powersports
Adding to the growing line of complete UTV audio systems, KICKER and SSV Works announce five- and three-speaker kits for the Can-Am Maverick X3 and Polaris GENERAL.  All kits include an AM/FM/Bluetooth receiver, a pair of KICKER Powersports amplifiers, KICKER weather-proof speakers, a KICKER CompRT subwoofer and SSV Works vehicle-specific enclosures. A custom under-dash radio processor/amplifier bracket is also included, as is all mounting hardware and pre-terminated wiring harnesses with quick-connects.
They use under-dash (GENERAL) or under-seat (X3) sub enclosure to deliver big bass on the trail without sacrificing legroom. All SSV Works enclosures are made of marine-grade fiberglass, and formed to perfectly fit the contours of each UTV.
Project Vehicles
Vehicles from every walk of life are represented in the KICKER Booth. Goodguys gold award-winning shop SicChops created a 1951 Volkswagen Beetle is featured in the KICKER Audio booth. The Beetle has a full Q-Class audio system with an IQ1000.5 multi-channel amplifier, as well as the L7QB8 loaded aluminum subwoofer enclosure and IQI Intelligent Interface.
A 2015 FIAT 500 Sport is providing demos, showcasing the new KEY all-in-one, smart amplifier/processor. Measuring in at under eight inches wide and under two inches tall, the KEY brings 180 watts of power and drastically improved clarity, volume and soundstage to nearly every radio on the market today, including those equipped with start/stop technology, according to KICKER. Users simply install the amp and set up the included calibration microphone near the headrest, where a driver's ears would be. A single button-press initiates KEY to automatically apply time alignment, detects speaker sizes, adjusts gain, applies a 40-band EQ and 24dB crossovers in a matter of seconds.
A 2015 Chevrolet Colorado with KICKER VSS (Vehicle-Specific Solutions) will be featured as well. VSS is made of three essential components: an amplifier with DSP for factory door drivers, wiring harnesses and powered subwoofer enclosure. All three elements have been customized to integrate seamlessly with the Colorado's factory radio and interior, utilizing factory plugs and mounting points.
KICKER's powersports partner SSV Works has a custom Polaris GENERAL in the booth, with a massive audio system exceeding 3,000 total watts. The system includes KICKER marine and powersports speakers/amplifiers, four L7QB8 enclosures and four CompRT 10-inch subwoofers. Custom kick panels and cage-mounted pods feature KICKER weather-proof 6.5-inch speakers. An SSV Works direct-fit dash kit with an MRB3 Bluetooth® controller is also installed in the UTV.
A SilverWave 250 Grand Costa RL pontoon boat is also in the booth, featuring four KICKER KMTC 11-Inch Horn-Loaded Tower Systems, two KM12 Marine Subwoofers and eight KM-Series 6.5-inch Coaxial Speakers. Controlling the system is a KMC20 Premium Media Center and an accompanying KRC15 Remote installed in a different boat zone. Two KMA-Series Marine Amplifiers will feed the system a total of 2,400 watts.