News
Keystone's RideTech Partnership Includes New Line of Sway Bars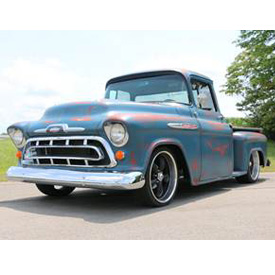 Keystone Automotive Operations Inc. has welcomed RideTech to its performance vendor card. RideTech, formerly known as Air Ride Technologies, was founded in 1996 when owner Bret Voelkel, now a member of the SEMA Hot Rod Industry Alliance (HRIA) Hall of Fame, developed an air ride suspension for a 1970 Ford Mustang project car.
RideTech serves a variety of applications, from street to track, with a full line of products, including air suspension systems, coil overs, shock absorbers, coil and leaf springs, control arms and sway bars.
"We do the research and development, CAD drawings, prototyping, CNC machining, CNC tube bending, jig welding, shock assembly and dyno, air spring crimping and burst testing, and final assembly all within our facility in Jasper, Indiana," the company stated in a news release.
RideTech introduced several new product launches during the 2018 SEMA Show, including a new line of sway bars that offer unparalleled dimensional accuracy and bar rate consistency. Featuring CNC-bent tubing produced in-house, the new sway bar program also employs investment casting technology to redesign bar ends and end links for added durability and easy installation, according to the company.
RideTech also debuted an all-new billet modular spindle design for C5/C6 Chevrolet Corvettes-as seen on the company's race-winning Track 1 C5 Corvette-and a new, larger rod end, and weld-on bearing known as the R-Joint XL.
"RideTech is the leader when it comes to performance suspension system upgrades. The complete systems give our customers the ability to make one purchase for everything they need to fully upgrade a suspension system," said Joe Rutledge, director of category management for performance at Keystone. "Our team is honored to be able to offer the RideTech product line to our customers."