News
Keystone's New B2B Mobile App Gives Access to Data, Tools and Sales Resources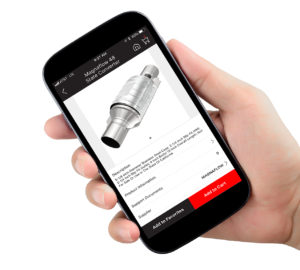 Keystone Automotive Operations has launched a new mobile app that puts the power of its e-Keystone business-to-business system into any device, and makes it mobile.
"Access to information when and where a person needs it was a fundamental consideration in the building of our app for mobile devices," said Harneet Kaur, director of marketing at Keystone. "Fast, convenient and thoughtful access to data, tools and sales resources that make our customer's lives better and more productive was the objective and the result we achieved.
"Shop owners are often in front of the counter, out in the parking lot looking at a customer's vehicle, making a dealer sales call, or in the shop working on a vehicle build. This app gives them the flexibility to access e-Keystone tools anywhere they work."
"In addition to being able to access all the power and resources available on e-Keystone, it goes even further. One of the new features is VIN Lookup which has been on our desired feature list for a long time," said Fred Petrivelli, vice president of sales at Keystone.
The e-Keystone app harnesses mobile device technology including voice-to-text capability to allow users to search for products simply by saying a category or brand, and utilizes the camera to scan QR, UPC and vehicle VIN numbers and VIN barcodes, according to the company. This scanning capability takes the mobile app from a retail sales driver to a store management tool for inventory control and other store functions like pricing, labels and ordering.
The e-Keystone app includes all the proprietary data in Keystone's B2B system. Subscribers can access more than 800,000 cataloged SKUs, 400,000 images, 20,000 videos, 40,000 installation instructions, and more.
"When you put a tool like this to work in a live business environment the possibilities for improving customer service and sales are endless," Petrivelli said.
Whether the app is used to scan a vehicle VIN to help identify accessories appropriate for that vehicle, place an order, track a shipment or upsell accessories in a car lot, car show or event, it will prove to be a powerful sales tool that can be taken anywhere, according to Keystone.
The app is now available for download on the iTunes App Store and Google Play and immediately available to existing Premium eKeystone users. Once loaded onto a user's device the app is activated using the customer's eKeystone account login information.
Contact a Keystone Automotive Operations customer service associate for more information at 800-521-9999.