News
Keystone Expands Performance Offering with Specialty Products Co.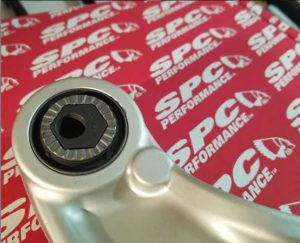 Keystone Automotive Operations Inc. has welcomed Specialty Products Co. (SPC) to its performance category. SPC offers a wide range of alignment parts and tool applications for daily drivers and dedicated racers.
Colorado-based SPC has earned multiple patents, safety certifications, and quality standard recognitions since its founding in 1971.
"SPC's dedication to the proper installation of its respected products has served it well within the industry," Keystone stated in a news release. "Partnering with Keystone will only bolster that reputation, opening the company to new customers and business opportunities."
Understanding the complexities involved in alignment theory and practices, SPC parts and tools are crafted with an eye for precision and performance, according to the company. An extensive product line includes control arms, coilover mounts, spacer kits, ball joints, and shims, as well as a variety of solutions for brake repair specialists, such as lathe inserts, drum tools, and rotor silencers, along with CV Boots and accessories.
The company also manufactures high-quality tools, specially designed for the correct installation of SPC parts, according to Keystone. All products are developed with the needs of installers in mind, and are regularly tested and evaluated in an effort to correct and innovate.
"Specialty Products Co. will fill an opening that, until now, would force our customers to search multiple lines to get all the items needed to complete a sale. Their vast offerings will allow one-stop-shopping for all hard-to-find alignment products and tools," said Joe Rutledge, category director of performance at Keystone.
SPC also offers several types of alignment training for installers, both online and at its training facility in Colorado. These learning opportunities are consistently updated and reevaluated to ensure they are providing the most current education on vehicle diagnostics and new technology, according to the company.
SPC has its own smartphone app, AlignGuide. The app gives access to OEM specifications for vehicles dating back to 1985 to help installers diagnose and correct alignment and suspension issues. Users simply scan a vehicle's VIN, enter the license plate ID, or pull down the year-make-model to see helpful illustrations of alignment adjustment methods and recommended service parts for installation.
The company also offers an online interactive educational service known as SPC-TV. The specially organized tech site provides free, instant access to dozens of installation videos for many of the company's most popular parts. Hosted by real automotive technicians, the hands-on videos offer step-by-step instructions and helpful tips.