News
2023 BIG Show to Feature SEMA Show Battle of the Builders Panel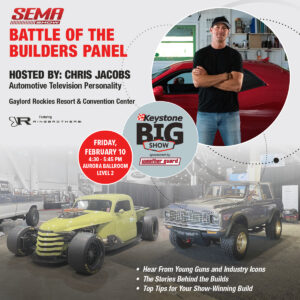 Keystone Automotive Operations announced it will be opening its annual customer event, the 2023 BIG Show Presented by Weather Guard, with a live presentation showcasing the 2022 SEMA Show Battle of the Builders competition finalists and winners, the parts distributor announced.
Scheduled for Feb. 10-11 at the Gaylord Rockies Resort & Convention Center in Aurora, Colorado, the BIG Show will feature receptions, an array of automotive aftermarket exhibitor displays, new products, show vehicles and education along with show-only sales and promotions, the company said.
Led by television host Chris Jacobs, the interactive 2023 Battle of the Builders Panel will provide an insider's perspective into the competition by featuring a former show judge and participants in the 2022 Battle of the Builders, show officials said.
SEMA Vice President of Marketing RJ de Vera will join panel to provide his insight, along with the history and background of the competition as it has evolved over the years, the company said.
Joining Jacobs and de Vera will be two-time Battle of the Builders Champions, Mike and Jim Ring of Ringbrothers, fresh off capturing the title at the 2022 SEMA Show with their 1948 Chevy Loadmaster Truck. Having also taken the overall prize in 2019, the Ringbrothers also took top honors in the off-road and truck category at last year's show with their custom K5 Blazer.
Also included will be 2022 Battle of the Builders Young Guns winner and overall finalist, Josh Michels. At just 22 years old, Michels won the class with a 1966 Corvette. Rounding out the panel will be Russell Built Fabrication's, TJ Russell, who grabbed the class win in the 2022 Sport Compact, Luxury and Exotics division with his 1991 Porsche "Baja" 911.
"The SEMA Battle of the Builders is the greatest custom vehicle competition on the world's largest automotive aftermarket stage," said Keystone Automotive Operations Vice President Category Management & Marketing and a member of the SEMA Board of Directors, Larry Montante. "Each of the individuals on this panel, representing multiple facets of vehicle building and customization has a unique story to share. We are looking forward to hearing their perspective on their motivation, how they approach their business and sharing with attendees how entering and winning a competition like Battle of the Builders can help attract customers by showcasing their talents with these high-profile builds."
The SEMA Battle of the Builders Panel will be held on Feb. 10 at 4:30 p.m. at the Gaylord Rockies Resort & Convention Center in the Aurora Ballroom for registered BIG Show attendees only.
Click here for more information.