News
Keystone Automotive Operations & Yokohama Offer New Rewards Program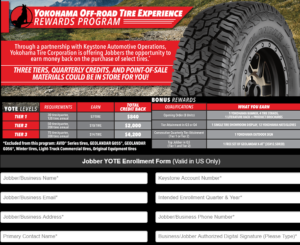 Yokohama Tire Corp. has partnered with Keystone Automotive Operations to offer automotive aftermarket shops an opportunity to earn money back-along with the chance to participate in unique off-road experiences-on the purchase of select tires through the Yokohama Off-Road Tire Experience (YOTE) Rewards Program.
"We are pleased to be partnering with Yokohama to provide this accessible program with attractive incentives to the local, independent shops who may not be handling the volume of larger tire retailers," said Dan Guyer, category manager for tires and wheels at Keystone. "This is a tremendous opportunity for our customers to benefit from some of the industry's highest payouts while offering rugged Yokohama GEOLANDAR Tires."
The YOTE program is an ongoing opportunity, permitting jobbers to sign up during any sales quarter with special quarterly goals that offer a variety of sales credits, collateral promotional items and complementary point-of-sale materials.
Broken into three earning levels, the YOTE Rewards Program is only valid in the United States for full-service retail jobbers with a storefront offering mounting, balancing, and other automotive services.
YOTE BONUS REWARDS
The YOTE Rewards Program looks to sweeten the deal for participants by adding bonus incentives for quarterly milestones, with the grand prize of a free set of GEOLANDAR X-AT tires going to the top jobber in Q3.
"From peak to pavement and everywhere in between, the All-New GEOLANDAR X-AT is built to conquer serious off-road terrain without compromising on-road comfort," says Yokohama. "As the new standard for extreme all-terrain use, this tire combines everything you'd expect from an A/T, but with the brute strength your favorite trails demand."
Specially-designed to provide superior durability, reliability, and cut-and-chip resistance, the GEOLANDAR X-AT line is an easy sell for pickups, Jeeps and other SUVs that demand maximum traction and long tread life, according to the company. It is available in 27 sizes ranging from 15 to 22 inches.
Visit http://unbouncepages.com/yote-sign-up/ for more information.