News
Keystone Automotive Operations Adds Chemical Guys to Lineup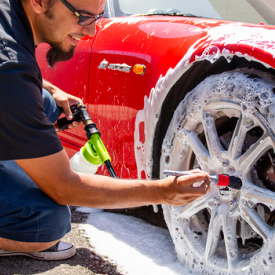 Keystone Automotive Operations has added Chemical Guys, a producer of detailing and car care products, to its chemical & tool category. Specializing in car care chemicals, accessories and tools, Chemical Guys prides itself on developing innovative and easy-to-use products in an ever-changing industry.
"Chemical Guys is more than a brand," announces the company proudly. "It's a lifestyle with a worldwide following. Driven by adventure, a passion for shine, and a love for the road ahead, we welcome any and all who share this passion to become part of our family."
Chemical Guys provides a variety of products for cars, trucks, ATVs, motorcycles and boats, and are now sold in over 50 countries. New additions to the product lineup include:
HYDROSLICK, a ceramic coating hyperwax that shines glass, glossy-painted wheels, chrome, and headlights while also protecting against UV rays, the elements, industrial fallout and more.
MOM'S POUND CAKE AIR FRESHENER, an odor-destroying car freshener with scent overtones of buttered sugar, vanilla, and citrus reminiscent of "Mom's special cooking."
MR. SPRAYER, a full-function atomizer and pump sprayer that delivers a fine mist of product without any water hoses, buckets, power cords, or tiring of fingers. "Simply prime the pump, adjust the nozzle from fine mist to jet stream and get spraying for your quickest and easiest detail ever," explains the company.
In addition to its product catalog, which includes cleansers, protectants, car wash accessories, comprehensive starter kits, restoration kits and more, Chemical Guys also offers instructional how-to videos on its website and YouTube channel, as well as classroom training through its Smart Detailing University (SDU), a 46,000-square-foot learning facility at its headquarters in Southern California.