News
Keystone Automotive Adds BMR Suspension to Performance Handling Line Card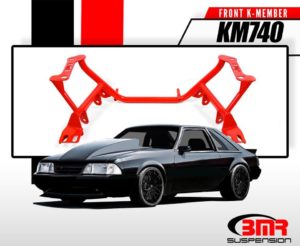 Keystone Automotive Operations has welcomed BMR Suspension, a suspension manufacturer in the street performance, stock suspension drag racing and pro touring markets, to its Performance Handling category.
Founded in 1998, BMR provides performance suspension products for more than 22 different late-model and classic muscle car applications. All product is made in the USA at the company's manufacturing facility near Tampa, Florida.
"BMR Suspension products fit and work so well because they are street driven and track tested on BMR project vehicles. But it is more than just great vehicles—virtually every BMR employee is a racer or hot rodder, as well," explains the company. "This love of racing is demonstrated every day in BMR's customer service, design innovation, and manufacturing quality."
BMR product ranges from individual components to comprehensive kits, offering customers the opportunity to choose between custom suspension configurations or manufacturer-tailored setups.
BMR products include:
Fox Body Mustang K-Member. Debuted at PRI 2018, BMR's direct stock replacement K-member is designed to provide more clearance for headers and turbo systems, as well as sit twenty pounds lighter than the OEM K-member. BMR's replacement will not compromise any original equipment, even making use of the factory springs.
1982-1992 GM F Body Caster Camber Plates. Constructed of CNC laser-cut steel, these bolt-on units help correct suspension geometry after the vehicle has been lowered.
1964-1972 GM A Body Control Arm Relocation Brackets. Constructed of laser-cut CNC plate steel, these control arm relocation brackets are designed to reduce squat and provide better traction. The bolt-on, weld-free design gives buyers three positions to select from to best suit their rides.
3rd, 4th and 6th Generation Mustang K-Members. BMR has recently released a new standard coilover version K-member for 1996-2004 Mustang owners, a new coilover motor plate version for 1979-2004 Mustang owners, and a new lightweight street/strip version for 2015-2019 Mustang applications.
"Given BMR's endless engineering capabilities paired with its record-setting performances on the track, the addition of them to our assortment was a no brainer!" says Brick Spurio, Keystone Category Manager. "With a vast parts catalog for applications from late-model to classic muscle, their line will provide our customers a solution for all their performance handling needs."