News
Keystone Announces 2022 BIG Show Dates, Location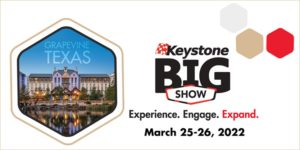 Keystone Automotive Operations, distributor and marketer of automotive aftermarket products and services, is returning to Grapevine, Texas for the 2022 BIG Show, the company announced. This annual customer event will be held at the Gaylord Texan Resort and Convention Center March 25-26, 2022, followed by a virtual event from April 4-9.
Returning to Texas after a successful 2021 BIG Show, the Gaylord Texan Resort and Convention Center will once again host the event showcasing exhibitor displays, show vehicles and product education along with show-only sales and promotions. Keeping with its ongoing commitment to support customer growth, Keystone will feature a full suite of innovative digital marketing programs and solutions will be featured throughout the event, company representatives said.
"Outstanding coordination between our experienced events team and the Gaylord Texan staff allowed us to present a first-class show this past March that not only exceeded the required health and safety standards but also effectively connected our customers with many of the industry's leading manufacturers and their products, in an in-person setting," said Keystone Automotive Operations President, Bill Rogers.
The March 2021 event marked the return to Grapevine for the BIG Show after a one-year hiatus.
"That was the first opportunity the industry had to meet in quite some time, so we felt a tremendous responsibility to safeguard the health and safety of the participants and our staff. While the knowledge gained from our most recent event provides us with a strong template for future success, we continue to monitor the events landscape as we move forward with our 2022 planning," continued Rogers. "We look forward to hosting the show in March and providing our customers and suppliers the opportunity to benefit from this unique platform."
For those unable to attend the 2022 BIG Show, Keystone will once again present a virtual BIG Show following the live event. This virtual show will be the third successive year of the online event, allowing participants the chance to partake in many of the same offers and promotions as the live event while engaging with presenting suppliers in a safe and convenient virtual format, the company said.
"Although nothing can replicate the in-person experience of attending the actual show, we feel we have honed our capabilities to provide the very best virtual event that is available anywhere for those customers that just can't get there" said Larry Montante, VP category management at Keystone Automotive Operations.
For more information, please visit keystonebigshow.com or contact your Keystone Representative.