News
Keystone Adds sPOD to Line Card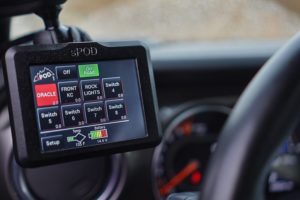 Keystone Automotive Operations has added sPOD, a manufacturer of precision-made power distribution and switching components, to its offerings. Since 2006, the family-owned company has been developing power distribution switch control systems for off-road vehicles, agricultural equipment, utility vehicles, race rigs and 12/24-volt equipment.
Based in Southern California, sPOD designs and manufactures in the United States.
"Our design philosophy is simple: make the best possible product to withstand the most extreme conditions, with the most reliable and user-friendly systems," says the company. "Our customers can have confidence in knowing they are using equipment made to the highest industry standards."
sPOD prioritizes hassle-free installation of its products, the company said, and its modular kits allow customers to easily add auxiliary lights, compressors, outlets, and more.
New additions to the sPOD lineup include:
SourceLT – A small, solid-state, 6-circuit control system to power and control 12V DC accessories. A small footprint ensures multiple mounting opportunities, while one controller cable allows for simple plug-and-play connectivity to the switch controller.
BantamX – Similar to the SourceLT, the BantamX requires no cutting, fishing wires into the cab or tapping into the vehicle's electrical system. The small, 8-circuit (expandable) control system provides power and control to 12/24V DC accessories via one ethernet cable into the cab.
"We're pleased to welcome sPOD, a well-respected brand born from off-road enthusiasm," says Brick Spurio, category manager at Keystone Automotive Operations, Inc. "Over the years, impressive quality and selection have helped sPOD expand into adjacent markets like motorsports, emergency response, agriculture, RV, and even marine. The brand's versatility is sure to be well received by our growing customer base."