News
Jodi Nichols Named The AAM Group Employee of the Year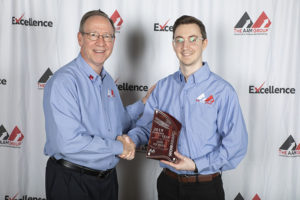 The AAM Group has named Jodi Nichols, full stack senior developer, the organization's 2019 Employee of the Year and recipient of the W.O.W. Award.
Nichols is tasked with building user experience and core functionality for many of the group's most vital digital tools and initiatives, according to the company.
"Jodi continues to take on more responsibilities as our technology initiatives grow," said Tim Odom, president. "2018 was a year in which many AAM staff members really stepped up, creating a strong field of individuals worthy of recognition. Jodi made significant contributions to many of AAM's highest-value projects in 2018. His commitment to rigor in his work, productive workflow, excellence in outcomes and responsiveness to our internal and external customers set him apart this year."
Given annually to the AAM Group employee who best exemplifies the qualities of commitment, creativity, initiative, and resourcefulness, the W.O.W. Award is named after Wilbur and Orville Wright, who embodied many of those same traits in their dogged pursuit to realize the world's first successful controlled airplane flight.
"Many employees have gone above and beyond their duties in the past year, so it's an incredible honor to be selected for the award," said Nichols. "It's encouraging to work for a company that recognizes hard work, and the effort put forth by my colleagues inspires me to do better each day."
The AAM Group (Automotive Accessories Marketing USA Inc.) is the largest distribution group in the Specialty Equipment Market Association (SEMA) marketplace. Now in its 31st year, the corporation was founded by eight high-performance warehouse distributors that sought to achieve cooperative scaled purchasing and marketing advantages.
In now counts 20 member companies operating 48 distribution centers throughout North America.