News
JL Audio Launches Line of DSP-Integrated Car Amplifiers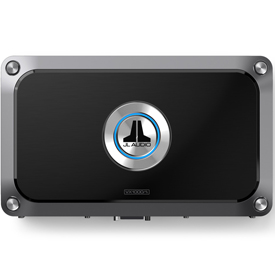 JL Audio recently unveiled the VXi car amplifier line. The VXi amplifier line includes eight models, all equipped with an integrated Digital Signal Processor (DSP).
"The VXi project has been in the works for three years and combines the efforts of multiple JL Audio engineering teams-electrical, DSP, firmware, software, and mechanical," said Stephen Leigh, JL Audio vice president of electrical engineering. "The goal was to deliver true high-fidelity amplifiers with integrated, full-featured DSP tuning capabilities. Our engineering team is thrilled with the end result and we are very excited to be launching these products into the marketplace."
JL Audio collaborated with AKM, known for its digital micro-devices. AKM created a special configuration of its triple-core DSP, with filter blocks optimized for the VXi project.
Each VXi amplifier channel features signal routing and mixing, parametric equalization, delay in 0.01 ms increments, all-pass filter (phase correction), polarity, and precise level control in 0.1 dB increments. All processing is done at 24 bits/96 kHz. All tuning and adjustment of the parameters is done via external devices running JL Audio's TüN software.
Accompanying the introduction of VXi is a bundle of software releases, expanding the universe of devices that can be used to control VXi: TüN 3.0 for PC and Mac OS, TüN Mobile for Android and iOS Tablets, and TüN Express for Android and iOS Smartphones. TüN 3.0 and TüN Mobile offer full control of the entire DSP feature set, while TüN Express delivers a simplified experience for quick setups.
VXi also marks the debut of the second generation of JL Audio's core Class D amplifier technology, dubbed NexD2. With NexD2T the full-range amplifier channels are fed by high-performance AKM DAC's and are fully synchronized by the AKM DSP, to improve fidelity and audio performance, according to JL Audio. VXi's advanced amplifier designs employ DirectFET technology and place capacitor banks right at the outputs, greatly reducing loop area to further refine audio quality.
In addition to the complete lineup of DSP-enabled amplifiers, JL Audio has introduced several peripheral pieces to simplify the installation process.