News
Jesse James, Heavy D and Diesel Dave Headline LINE-X Booth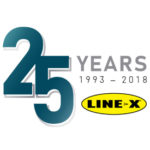 Hard-charging celebrity custom builders Jesse James, Heavy D and Diesel Dave are smashing into the SEMA Show with big-build unveils to celebrate 25 years of LINE-X. One of LINE-X's newest motorsports partners and franchise owner, NHRA Funny Car driver Bob Tasca III, also will join the celebration.
LINE-X's growth since the brand's launch in 1993 is reflected by its network of 660 franchises and applicators in more than 70 countries. To honor the company's 1993 start, famed automotive and motorcycle icon, Jesse James of West Coast Choppers and Texas Hot Rods, customized and transformed a 1993 Dodge Ram D350 truck into a flatbed powerhouse, with several unique modifications to highlight the variety and functionality of LINE-X coatings.
Representing the present and future of the LINE-X lifestyle, Diesel Dave and Heavy D of the Dieselsellerz, as seen on the Discovery Network show, Diesel Brothers, worked their magic on a 2018 Ram 3500 truck with the help of an army of build partners. Complete with Truck Gear by LINE-X accessories, the Ram 3500 also features many of LINE-X's premium protective coatings to illustrate the endless customization possibilities available to truck owners and LINE-X enthusiasts.
"For the last 25 years, people around the world have relied on LINE-X for vehicle style touches and extreme protection from the harshest conditions imaginable, and we're honored to have Jesse James, Heavy D, Diesel Dave and Bob Tasca at SEMA to celebrate the bold past, present and future of the brand," said Dennis Weese, president of LINE-X. "With more than 660 franchises and applicators around the world, LINE-X has grown into a true lifestyle and a world-class brand that's trusted to protect what matters most to our customers, whether in everyday life or in manufacturing and industrial scenarios. We can't wait to see how far LINE-X can go in the next 25 years and beyond."
Visit the LINE-X both (No. 30087) at SEMA at the following times to meet James, Heavy D, Diesel Dave and Bob Tasca III:
2-3 p.m., Oct. 30-Jesse James & Bob Tasca
10-11 a.m., Oct. 31-Heavy D & Diesel Dave
2-3 p.m., Oct. 31-Jesse James
11 a.m.-Noon, Nov. 1-Jesse James, Heavy D & Diesel Dave