News
Jaguar and Hot Wheels Announce 'Ultimate Track Engineering Challenge'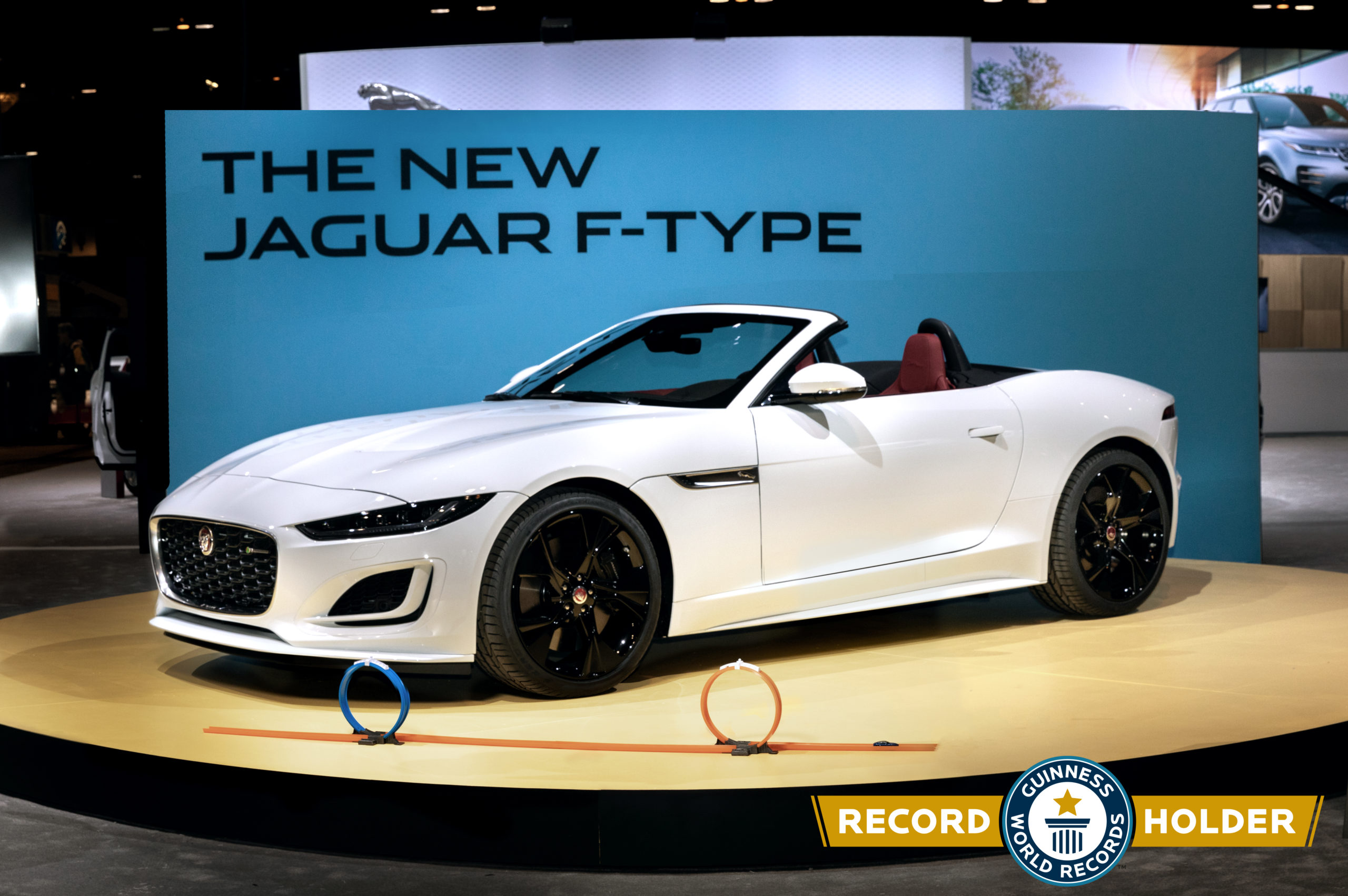 Jaguar celebrated the reveal of the new 2021 Jaguar F-Type in North America by partnering with Hot Wheels to announce a new engineering scholarship contest across North America, the Jaguar & Hot Wheels Ultimate Track Challenge.
Jaguar and Hot Wheels also set a Guinness World Records title for the most loops-the-loops in a Hot Wheels track as part of the vehicle's reveal at the Chicago Auto Show.
The Jaguar & Hot Wheels Ultimate Track Challenge will be open to college and university engineering programs to partner with their local Jaguar retailer for students to design and build the most complex, record-setting Hot Wheels track imaginable, meeting both Hot Wheels and Guinness World Records parameters. Student participants will have the opportunity to set a record lap at retailer launch events for the new F-Type throughout the month of April.
Jaguar and Hot Wheels will select the most challenging track and award a $50,000 donation to the participating institutions' scholarship fund. At the Chicago Auto Show, the first group to enter the competition was a group of students from the Illinois Institute of Technology, who will partner with Jaguar Land Rover Orland Park.
"For many car enthusiasts, a Hot Wheels car was their first automotive experience. Oftentimes it was an exotic sports car, like the F-Type, which is why we are thrilled to be revealing the vehicle in North America with this Hot Wheels partnership" said Stuart Schorr, Vice President Communications, Jaguar Land Rover. "Jaguar is committed to supporting the next generation of smart, creative, automotive enthusiasts and we are excited to see the submissions students will be making across the U.S. and Canada."
The record-setting track Jaguar and Hot Wheels built at the Chicago Auto Show measured 69.5 feet and was built entirely from Hot Wheels Track sets. It consisted of seven loops unassisted by power boosters; breaking the previous Guinness World Record by two loops.
"Hot Wheels was founded to push the limits of design and performance and we are proud to have worked with the talented team at Jaguar for over 40 years," said Ricardo Briceno, Senior Director of Hot Wheels Global Brand Marketing, Mattel. "Partnering with Jaguar to break the Guinness World Record and calling on students across the U.S. and Canada to create their own vision to win the #JaguarHotWheels Challenge is the perfect example of our commitment to ignite and nurture the challenger spirit."
Students interested in participating in the #JaguarHotWheels challenge should work with their local Jaguar retailer to come up with a concept. Jaguar retailers will have a set amount of track components (over 100 feet) to work with to create their vision of the "Most Challenging Track".
Students will build their track at their local Jaguar retailer and attempt to set a record lap at the retailer launch events for the new F-Type by April 30, 2020.
All Hot Wheels track components supplied to dealers are required to be used and students may not add additional track components to their set. Students are able to modify track components, such as cutting turns and reducing the length of straight sections, as they deem appropriate. Students will then be judged on the Jaguar vehicle that completes the full track with more loops than the new current world record in the shortest amount of time, and must also incorporate both the F-Type and dealership elements into the track design. Students and Jaguar retailers will need to document a Hot Wheels Jaguar vehicle successfully completing the track with an unedited, continuous video of one full circuit to be deemed eligible, with proof of timing from start to finish.