News
Instagram and Your Auto Shop: 5 Mistakes to Avoid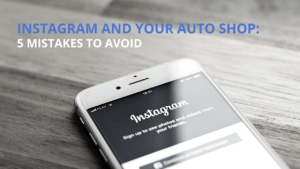 Instagram is continuing to grow in popularity in the auto industry and with so many businesses (and customers) flocking towards social media it's important to know how best to work it.
With so many businesses using Instagram to get more customers, it's more important than ever to do the right things and avoid making common mistakes that could cost you followers.
So, if you want to:
• Gain more followers
• Increase your audience engagement
• Drive more traffic to your website
Then you'll need to avoid these Instagram mistakes in your posts.
Barry Alt, a digital strategist specializing in restoration, performance and race shops, has some tips to help you get the most out of your shop's Instagram.
Head over to the blog at Alt's digital marketing agency, Motorhead Digital, to learn how to make your social media presence more effective.
Click here to read more.