News
Industry PR Professional Wins PRSA President's Award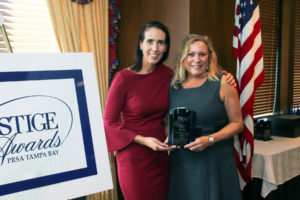 Leslie Allen, Martin & Co.'s PR director and event manager, received a President's Award from the Tampa Bay chapter of the Public Relations Society of America (PRSA). Allen was honored for her work as the co-chair of PRSA's PRestige Awards, which was held Nov. 8 at the University Club of Tampa. Almost 100 PR professionals throughout central Florida attended the event, where Allen received her award.
"This award was a complete surprise," Allen said. "I have so enjoyed working with a committee that was equally dedicated to making this year's event the best ever. I have always enjoyed the challenge of events and look forward to participating with the committee next year."
Chapter President Mary Margaret Hull, APR, presented the award to Allen for her outstanding work in coordinating the event with the help of the PRestige Awards Committee. Tampa Bay PRSA is composed of more than 225 public relations professionals working as independent practitioners, and for nonprofit and for-profit companies, and government agencies.
The President's Award was one of four given out at the awards event.
"We share in Leslie's enthusiasm to grow her PR and event management skills and we congratulate her on this recent recognition by her peers in the PR community," said Zan Martin, Martin & Co. president.
Contact Martin at 615-876-1822, or email her at zan.martin@martincoadvertising.com for additional information.