News
Industry Pinewood Derby to Raise Charity Money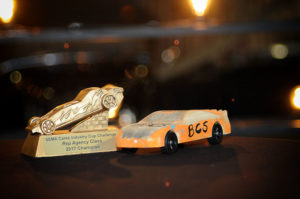 The SEMA Cares Pinewood Derby is set for July 20 at the SEMA Installation Gala & Fundraiser in Los Angeles.
The big race pits sponsoring companies against one another in a classic downhill showdown. Sponsors are placed in five divisions where they race with high-quality, child-built pinewood cars. Each division crowns a winning company, which then goes on to represent that division in an all-out industry race for the No. 1 crown.
The Pinewood Derby benefits nonprofit groups supported by SEMA Cares, including the Austin Hatcher Foundation for pediatric cancer, Childhelp for prevention and treatment of child abuse, and the Victory Junction camp for children with serious medical conditions and illnesses.
The industry challengers in the Pinewood Derby each have a limited number of entrants in the following divisions:
Warehouse Distributors
Manufacturers
Media Groups
Rep Agencies
Service Providers
The champion can display the impressive trophy for a year with its company name boldly engraved among the winners. Like the NHL's Stanley Cup (click to see it below), the trophy must be returned for the following-year Derby winners.
Sponsoring companies participate with a $1,000 donation.
Standard pinewood build rules apply to all competing vehicles. Vehicles are randomly assigned and the race is officiated by SEMA Cares volunteers.