News
Indianapolis 500 Closed to Spectators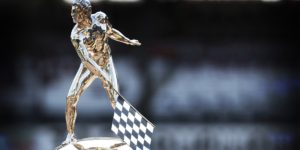 This year's Indianapolis 500 will be held without spectators, the Indianapolis Motor Speedway announced.
"It is with great regret that we announce the 104th Running of the Indianapolis 500 will take place on Aug. 23 without fans. This tough decision was made following careful consideration and extensive consultation with state and city leadership," track officials said in a statement announcing the decision. "As dedicated as we were to running the race this year with 25 percent attendance at our large outdoor facility, even with meaningful and careful precautions implemented by the city and state, the COVID-19 trends in Marion County and Indiana have worsened. Since our June 26 announcement, the number of cases in Marion County has tripled while the positivity rate has doubled."
In addition to the race, all on-track activity during the month of August, including practice and qualifications, will be closed to the general public.
The first Indy 500 practice will take place on Wednesday, Aug. 12.
Individuals who still have tickets to this year's Indy 500 will be credited for the 2021 Indianapolis 500 and will retain their seniority and their originally assigned seats.