News
iKamper Hosting Community Camping Event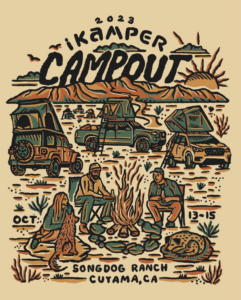 iKamper is now offering early bird ticket access ahead of CAMPOUT, a community camping event open to all outdoor recreation enthusiasts, the company announced.
The roof top tent and outdoor equipment manufacturer will host the three-day event (Oct. 13-15) at Songdog Ranch in Cuyama, California, to celebrate the outdoor lifestyle, the company said.
iKamper has been holding community events for the past two years and the CAMPOUT series is a continuation of those efforts, the company said. In addition to the California event, iKamper is planning to hold additional CAMPOUT gatherings, with the first international event taking place in South Korea May 19-21.
Scheduled features include off-road trail runs, chef-prepared meals, live music, a sneak peek at new products, community raffles and more.
"CAMPOUT is all about celebrating amazing people. This event embodies our 'Love People, Love Nature' motto." said Thomas Rousseve, community marketing manager at iKamper. "The past 2 years have provided a great foundation that we'll continue to improve upon in California and overseas. We're can't wait to bring the iKamper family together again in 2023 to make new friends, plan new adventures, and spend a weekend in California's great outdoors."
Click here for more information.