News
iKamper Celebrates Storefront Opening with Special Edition Rooftop Tent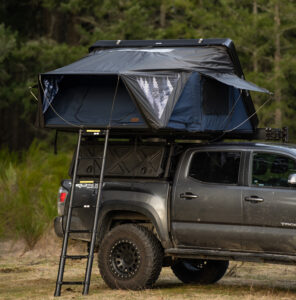 iKamper has a new storefront in Seattle—the company's first brick-and-mortar location—and celebrated the grand opening by partnering with a local artist to create a special edition Skycamp rooftop tent, the company announced.
The new storefront, located outside Seattle in Kent, Washington, will serve as a showroom for iKamper products, as well as a resource for the local outdoor community, the company said, and will be available for events, trainings or other gatherings.
Additionally, Soon Park, iKamper's founder and CEO, was on hand to unveil the special edition PNW Edition Skycamp rooftop tent, the company said.
The special edition tent pays homage to the Pacific Northwest with a unique mural from Belligham, Washington-based artist Gretchen Leggit and black aluminum styling. The mural depicts the North Cascades, a range of mountains spanning the border of British Columbia and Washington state, the artist said.
The tent will only be available for purchase in-person at the new iKamper storefront.