News
Hypertherm Recognized by Home State for Work-Based Learning Initiatives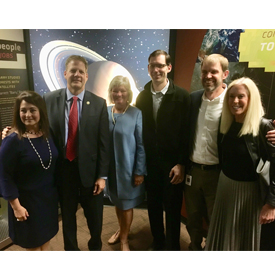 Hypertherm-a New Hampshire-based manufacturer of industrial cutting systems and software-has received an award for excellence in work-based learning. The company was selected during an evaluation process that followed its nomination by Lebanon High School.
New Hampshire Governor John Sununu presented the award to Hypertherm's Barbara Couch, president of the Hypertherm Owners' Philanthropic Endeavors (HOPE) Foundation, during an award ceremony in Concord.
Judges recognized Couch for her leadership in promoting work-based learning across New Hampshire, for encouraging Hypertherm Associates to volunteer, for participating on numerous boards and for sponsoring events through the HOPE foundation. Judges also called out Hypertherm's unique STEM internship program for high school seniors, as well as its SHAPE for STEM initiative which includes the sponsorship of STEM camps for middle school students and STEM clubs for students beginning in elementary school. In addition to Hypertherm, student champions, school advisors, teachers, and industry partners were also presented with awards.
"We are humbled by this award as we see our work as a way of supporting our community, and ensuring that we, as a high-tech manufacturer, have a skilled pool of people to draw from," Couch said. "It is of great strategic importance to us that upcoming generations are engaged and capable in all areas of Science, Technology, Engineering, and Math (STEM), and programs like SHAPE for STEM, combined with giving through the HOPE Foundation and volunteering by our associates, is one way we can do that."
For more information, visit Hypertherm.com.