News
Hypertherm Associates to Exhibit at FABTECH 2022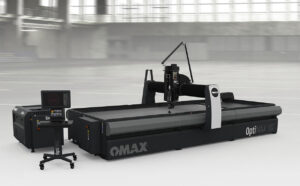 Hypertherm Associates, a U.S. based manufacturer of industrial cutting products and software, is preparing to appear at the FABTECH 2022 fabricating, welding and finishing exhibition, the company announced. The company's Hypertherm and OMAX technology brands will appear at Atlanta's Georgia World Congress Center on Nov. 8-10.
The Hypertherm and OMAX technology brands will exhibit from one combined booth to offer show visitors an array of plasma and waterjet products. Visitors to Booth B8309 will have an opportunity to view new products, as well as live demonstrations.
Powermax air plasma products will be showcased in Booth B11237. Attendees will have the opportunity to try the Powermax SYNC and its SmartSYNC torch, as well as meet with metal artist, TV personality, and author Rae Ripple, who plans to unveil her newest creation, an intricately cut vintage car hood that she made with her Powermax65 SYNC.
Additionally, Hypertherm Associates will exhibit and demonstrate its Robotmaster offline programming software for robots from Booth C10827.
"We are excited to return to Atlanta for FABTECH 2022," said Kristy Gerwig, who is managing this year's show for Hypertherm Associates. "We can't wait to see our partners and loyal customers in person and meet new customers to discuss how our plasma, waterjet, and software products can support their business goals."