News
Hypertherm Announces 'Spark Something Great' Grant Winners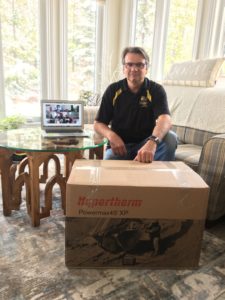 Hypertherm, a U.S. based manufacturer of industrial cutting systems and software, has announced the recipients of its 2020 Spark Something Great educational grant.
The grant program, now in its sixth year, is designed to place the latest plasma technology into schools so the next generation of metalworkers can train on the equipment they will find once entering the workforce.
Grant recipients were selected from a record pool of 257 applicants representing high schools, vocational school and colleges from throughout the United States and Canada. Each of the 12 winning schools will receive a Hypertherm Powermax45 XP plasma system, Hypertherm's AWS SENSE approved "Plasma Cutting Technology: Theory and Practice" curriculum kit and in-person training from a Hypertherm industrial cutting expert. This year's recipients, which include a start-up program for homeless and unemployed veterans in Texas, are as follows:
Central Columbia High School – Bloomsburg, PA
Cheraw High School – Cheraw, SC
Clearwater High School – Piedmont, MO
Dallas County Community College – Dallas, TX
East Lee County High School – Lehigh Acres, FL
Lorain County JVS – Oberlin, OH
Monument Valley High School – Kayenta, AZ
Murray/Calloway County Area Technology Center – Murray, KY
Lively District Secondary School – Lively, ON
Shead High School – Eastport, ME
Spray School District – Spray, OR
Tri-County Technology Center – Walterboro, SC
"This year, we had 36 schools with no hand plasma at all, and many more trying to use very old systems," said Betsy Van Duyne, who manages Hypertherm's educational program. "In addition, we had schools with 200, 300, and even 400 students sharing one system, which obviously makes teaching and learning difficult. Though we cannot award a system to every deserving school, we are thankful that a meaningful number of students now have an opportunity to cut, gouge, and mark metal with a Powermax45 XP."
Hypertherm also supports schools by offering educational discounts to teachers and students, and by making its plasma curriculum available for free download. To date, teachers from more than 2,700 schools have acquired the lesson plans helping standardize the teaching of plasma cutting to thousands of students. Hypertherm also offers its ProNest for Education program which places its ProNest CAD/CAM nesting software in schools. Since launching that program four years ago, Hypertherm has donated ProNest packages to 173 schools.