News
Hurley Haywood to Appear at Vintage Auto Film Exhibition During Hilton Head Concours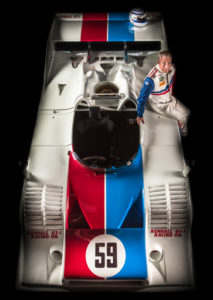 Endurance racer Hurley Haywood will help to kick off the Hilton Head Concours by appearing at the Vintage Auto Film Exhibition on Oct. 31, 2019 in addition to a screening of Hurley, a film about the three time 24 Hours of Le Mans winner.
"The driving purpose of the Vintage Auto Film Exhibition is to celebrate the excitement, the history and the culture of the automobile through film," said event organizer Guy Smith of Popcorn Octane Productions. "Featuring Hurley and having Hurley Haywood along for the ride this year will be incredible."
Hurley, executive produced by Haywood's racing protégé Patrick Dempsey (from Grey's Anatomy fame), chronicles Haywood's life, revealing a greater insight into the tightrope walk between his famous racing driver persona and a personal life that remained a mystery. A Q&A session with Haywood will follow the screening.
Award winning The Lauda Legacy anchors the short films segment, featuring Niki Lauda's 1974 Monaco pole-winning Ferrari 312 with three-time Le Mans winner Marco Werner. Making its big-screen premiere is Phoenix Rising, a film that follows the unexpected restoration of a significant Porsche Abarth Carrera GTL plus the latest Why I Drive from Hagerty.
Positioned as the kick-off for the Hilton Head Concours weekend, this year's Vintage Auto Film Exhibition will be held for the first time at the Arts Center of Coastal Carolina.
Prior to the film's screening, attendees will enjoy hors d'oeuvres and cash bar cocktails as well as an exhibit of racecars, classic and collector cars. Tickets are $35. Visit vintageautotv.com for more information and advance ticketing. Early ticket purchase is recommended.
Where & When
6 p.m.-10 p.m. Thursday, Oct. 31, 2019, at the Arts Center of Coastal Carolina
Event Schedule
6:00 p.m. Red-Carpet Reception, Classic, Collector and Race Car Display and Hors d'oeuvres & Cocktails
7:00 p.m. Short Films: 'The Lauda Legacy', 'Phoenix Rising', & 'Why I Drive'
7:30 p.m.  Featured film 'Hurley' followed by Q&A
10:00 p.m.  Event concludes