News
H&R Race Springs Endorses 17-Year-Old Endurance Racing Sensation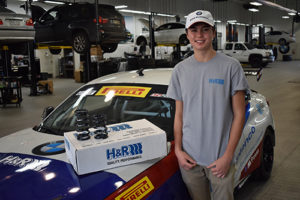 A 17-year-old professional race car driver from Denver is H&R's newest racing sponsorship partner. Max Fedler, a fourth-generation driver in his family, is one of the youngest Americans to ever win two 24-hour endurance races, including the Creventic 24 at Circuit of the Americas in Texas and the 24 at 5280 in Colorado.
Fedler races in the BMW Motorsport Customer Racing program exclusively on H&R Springs. "We have chosen to partner with him as he pursues his dream of reaching the pinnacle of global GT racing. Max uses H&R Race Springs as a primary suspension tuning tool, balancing weight, and lowering the center of gravity based on track and weather conditions," according to an H&R Special Springs news release.
Like all of H&R's products, H&R Race Springs are made in Germany and use only the finest quality materials and precision manufacturing, according to the company.
For more information, visit hrsprings.com.