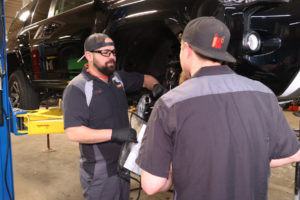 Editor's Note: The following excerpt appears in the July issue of THE SHOP magazine mailing soon. Read the whole article in print or digital.  
Recruiting the right employee candidates is one of the most critical responsibilities of shop managers and owners. If an organization doesn't have high-caliber personnel, it may have difficulty meeting its goals.
Unfortunately, many shops don't give the process of identifying and hiring top performers the importance it deserves, and as a consequence get saddled with incompetent staff members who affect productivity and profitability.
Making hiring decisions are seldom one of the strengths of most managers. Few practice ongoing recruiting to accumulate resumes from possible candidates when the time comes.
A hiring pyramid is a broad base of potential employees leading up to the peak, and contained somewhere therein is the right choice. To build your own base, you need to constantly be on the lookout for good people, urging them to submit their resumes so that they are on file when you have a position that needs to be filled. This reduces the temptation to raid workers from a competing shop, because you've found candidates on your own.