News
Hot Wheels Legends Tour Hits Road for Toy Inspiration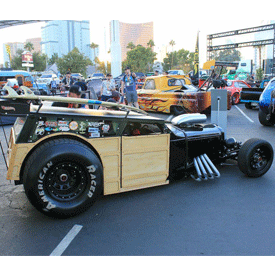 Hot Wheels for the second consecutive year will conduct a traveling car show to search for a life-sized custom car worthy of being made into a die-cast toy car. The 18-stop national tour will start March 16 in Miami.
"Our first Hot Wheels Legends Tour set the bar high, bringing together tens of thousands of passionate, brand fans and car enthusiasts of all ages in a first-of-its-kind tour experience to celebrate our 50th anniversary," said Chris Down, global head of Hot Wheels. "It was invigorating to see fans and families showcase and celebrate car culture in a way only the Hot Wheels brand can and now we're ready to take year two to the next level by expanding the tour with new partners and stops."
BONUS READING: Open-Wheel Jet Car Wins Inaugral Hot Wheels Legends Tour Contest
The Hot Wheels Legend Tour launched last year to celebrate the toy brand's 50th anniversary, attracting more than 3,600 cars and 65,000 fans. The tour this year will include even more show dates. The winning vehicle will be inducted into the Hot Wheels Garage of Legends, a collection of one-of-a-kind cars that embody the brand's "challenger spirit and legendary design," according to the company,
"We're proud to support the Hot Wheels Legends Tour in its second year, giving fans of such an iconic and nostalgic brand yet another opportunity to experience this unique event," said Michele Biamonte, consumer brand marketing Manager FOR ExxonMobil. "The chance to celebrate car enthusiasts of all ages throughout the year and help ignite the automotive passion in today's youth is something Mobil 1 is honored and excited to be a part of, and we can't wait to make this year's tour even bigger and better."
At each tour stop, fans will show off their unique custom builds to judges consisting of Hot Wheels designers, automotive experts and influencers. The judges will select one finalist per tour stop, based on a car's authenticity, creativity and garage spirit. Finalists from each of the 18 stops will win a trip to the SEMA Show in Las Vegas, where their custom creations will be judged side-by-side to determine which one will be made into a die-cast car sold around the world.
Hot Wheels Legends Tour also will features racing simulations, pit stop challenges, the Hot Wheels Kid Zone, photo opportunities, and a chance to check out the rest of the Hot Wheels life-size fleet.
The Hot Wheels Legends Tour will stop at select Walmart stores in the following U.S. cities:
·      Miami, March 16
·      Houston, March 30
·      Dallas, April 13
·      Atlanta, April 27
·      Bentonville, Arkansas, May 11
·      Charlotte, North Carolina, May 25
·      Philadelphia, June 1
·      New York City, June 15
·      Detroit, June 29
·      Chicago, July 13
·      St. Louis, July 27
·      Denver, Colorado, Aug. 10
·      Seattle, Aug. 24
·      Phoenix, Sept. 7
·      San Jose, California, Sept. 21
·      San Diego, Oct. 5
·      Los Angeles, Oct. 19
The tour also will make a special stop at Hot Wheels headquarters in El Segundo, California on May 15 to celebrate the brand's 51st anniversary. International stops of the tour will be announced at a later date.
Hot Wheels 1:64 scale die-cast cars were designed in 1968 to look cool and perform better than anything else on the market. Five decades later, Hot Wheels is the No. 1 selling toy in the world, with more than 16.5 cars sold every second, according to the company.
Visit www.HotWheels.com/GarageofLegends for more information.