News
Hot Shot's Secret Winter Defense Fuel Booster Wins Award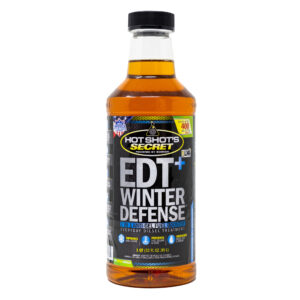 Hot Shot's Secret EDT+ Winter Defense fuel booster has won a MOTOR Top 20 Award for 2023, parent company Lubrication Specialties announced.
The winners of MOTOR's Top 20 Awards, an annual, online voting product competition, will be recognized at the 2023 AAPEX Show in Las Vegas. Lubrication Specialties Brand Manager Josh Steinmetz will accept the award at this year's show, the company said.
EDT+ Winter Defense fuel additive combines components of Hot Shot's Secret's fuel additive Everyday Diesel Treatment such as increased lubricity, fuel economy, power, and MPG, with anti-gel properties to reduce fuel line freeze-ups during cold weather, the company said. Introduced in 2022, EDT+ Winter Defense aims to improve cold weather operability and reduce hard starts by preventing paraffin wax precipitation during cold weather.
"We are very excited to win this award. While originally, the competition was mostly directed to tools and equipment, the competition has opened in recent years to any product that is an innovation with a significant improvement," said Steinmetz. "For shop owners and technicians, especially those working with diesel engines, this product relieves a lot of the headaches caused by poor performing ULSD fuel. Now, there's a formula specific for cold weather that technicians can recommend keeping vehicles working in top shape even in the most extreme weather conditions."