News
Hot Shot's Secret Wins National Tractor Pullers Association's Manufacturer of the Year Award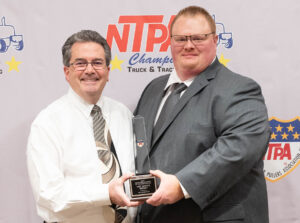 Hot Shot's Secret was recently presented with the National Tractor Pullers Association's (NTPA) Manufacturer of the Year Award, the company announced.
The award was presented to Josh Steinmetz, Lubrication Specialties Inc. eCommerce manager on at the NTPA's 50th Awards Banquet.
Hot Shot's Secret became a sponsor of NTPA truck and tractor pulling in 2020, under a three-year partnership that designates Hot Shot's Secret as the official Fuel Additive of the NTPA.
"Hot Shot's Secret came aboard a couple of years ago, and almost immediately competitors with diesel-fueled vehicles in both tractor and truck categories were eager to familiarize themselves with their array of products," says Gregg Randall, NTPA executive director. "What our competitors discovered was that Hot Shot's Secret had applications for power, performance and lubricity needs – both paramount in our high horsepower world of tractor and truck pulling. Results were being realized on the track by using the products. Now, by earning the 'Manufacturer of the Year' award from our association, the secret is out – Hot Shot's Secret is proving to be an important component to the equation to increase and add reliable power. We appreciate their involvement with the NTPA and are excited to see what else is formulated to help our sport."